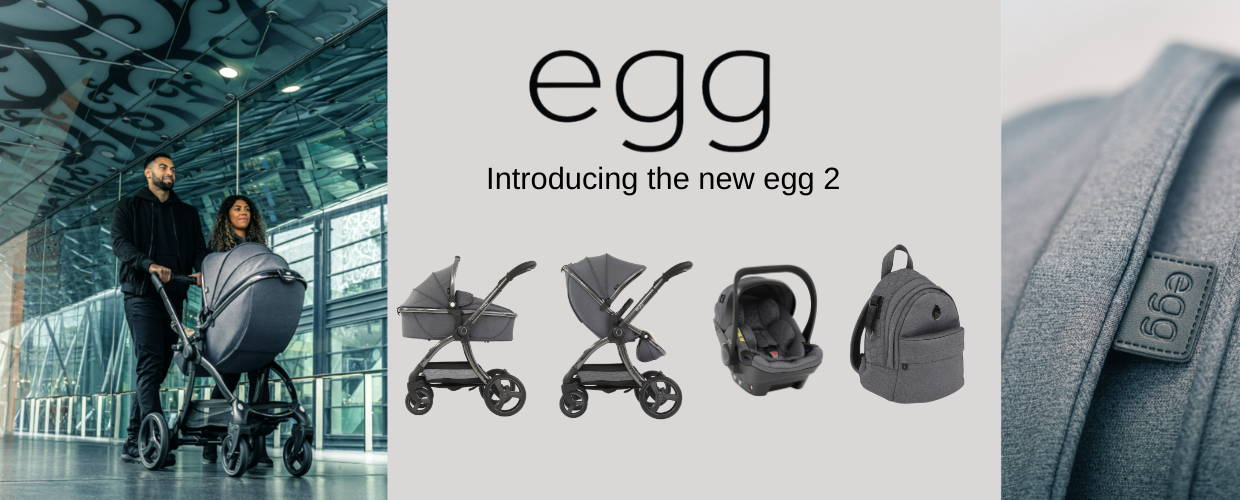 Egg 2 has finally hatched...
So the new improvements coupled with the most stylish pram on the market has enabled the new Egg 2 Stroller to become a leader in its class. It's a one hand fold pram, that offers a superb ride quality, looks stunning and performs great on all terrain... Babystyle & the design team at Egg really have excelled in every area of performance.

The carry cot is beautiful detailed and the fabrics used are soft to touch. It can be used from birth and has been made a little bit larger than the original Egg Stroller, so your baby can now sleep comfortably overnight, albeit we would only recommend this be done on occasions!

It offers a stunning 25kg seat unit that offers both functionality and style and can be parent facing or world facing depending on the development and preference of your child. It has a near lie-flat setting so your baby can sleep soundly and in comfort.

The matching Egg Car Seat and Isofix base turns this pram into the best travel system we have ever tested. It's so simple to add the carrycot, swap for the seat unit or attach the car seat with the multi adaptors and all can be done within seconds. This truly is a fabulous all in one package that offers amazing value for money.

So what is the difference between Egg and Egg 2?

- New & Improved Handle
- Larger Seat Unit - Allowing a much more comfortable ride
- Larger Carrycot - Great for occasional overnight sleeping
- New 3 Spoke Wheels - Cool design which looks both classy & sporty
- New and Improved Back Pack - very cool... you know you want one
- Matching Egg i-Size car seat - both safe and stunning



In summary we're really excited by the whole range and proud to be a preferred supplier of Egg. We can't wait for you to come in store for your product demonstration so we can show if off to you too!